The Torchlight (횃불 - Hwaetbul) is a 1963 film directed by Shin Sang-ok.[1]
A historical drama set during China's Qing Dynasty and the reign of Korea's Yeongjo the Great. Political troubles arise when an arrogant Qing envoy is offended while in Korea and demands an apology.[1]
Bibliography
Edit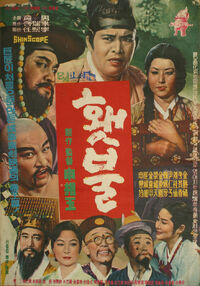 ↑ Torchlight(1963) at the Internet Movie Database
Ad blocker interference detected!
Wikia is a free-to-use site that makes money from advertising. We have a modified experience for viewers using ad blockers

Wikia is not accessible if you've made further modifications. Remove the custom ad blocker rule(s) and the page will load as expected.