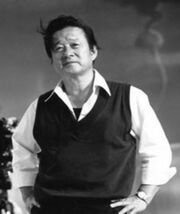 Shin Sang-ok aka Simon S. Sheen (신상옥 / 申相玉; Chungjin, September 11, 1926 - April 11, 2006) was a Korean director and producer. His film credits also include screenwriter, art director, actor, cinematographer, editor and planner.[1] He was married to actress Choi Eun-hee, who starred in many of his films.
Partial Filmography
Edit
Bibliography
Edit
Ad blocker interference detected!
Wikia is a free-to-use site that makes money from advertising. We have a modified experience for viewers using ad blockers

Wikia is not accessible if you've made further modifications. Remove the custom ad blocker rule(s) and the page will load as expected.