Cheol-jong and Bok-nyeo or King Cheoljong and Bongnyeo (철종과 복녀 - Cheoljonggwa boknyeo) is a 1963 film directed by Shin Sang-ok.[1]
As a child, King Cheoljong was cared for by a girl named Bongnyeo. His wish to meet the girl again distracts him from his government duties. The queen calls for Bongnyeo so that Cheoljong can see her again. Bongnyeo tells the King to rule wisely and gently. The King is inspired to be a good ruler, but dies young due to an assassination plot.[1]
Bibliography
Edit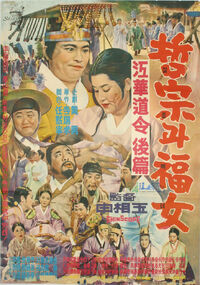 ↑ Cheol-jong and Bok-nyeo (1963) at the Internet Movie Database
Ad blocker interference detected!
Wikia is a free-to-use site that makes money from advertising. We have a modified experience for viewers using ad blockers

Wikia is not accessible if you've made further modifications. Remove the custom ad blocker rule(s) and the page will load as expected.