Box of Death (주검의 상자 / 주검의 箱子 - Jukeomiui sangja) is a 1955 film directed by Kim Ki-young.[1] It was the noted filmmakers directorial debut.
When a communist plots to bomb a village, one village boy finds the comunists' hideout and succeeds in blowing up the comunists instead.[1]
Bibliography
Edit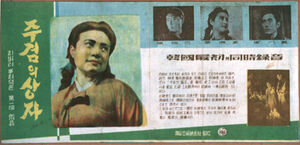 Ad blocker interference detected!
Wikia is a free-to-use site that makes money from advertising. We have a modified experience for viewers using ad blockers

Wikia is not accessible if you've made further modifications. Remove the custom ad blocker rule(s) and the page will load as expected.