A Flower in Hell (지옥화 / 地獄花 - Jiokhwa) is a 1958 film directed by Shin Sang-ok.[1]
Yeong-shik makes a living in Seoul by stealing goods from the U.S. military and selling them on the black market. His girlfriend, Sonya, is a prostitute for US soldiers. Don-shik, Yeong-shik's brother, comes from their hometown to bring his brother home. At a party, Sonya seduces Don-shik while Yeong-shik is undertaking a robbery. Yeong-shik finds them together and kills Sonya. He tells his brother to take care of their mother and then shoots himself.[1]
Awards and Nominations
Edit
Bibliography
Edit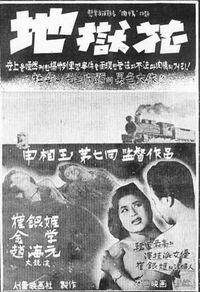 ↑ Flower in Hell (1958) at the Internet Movie Database
↑ Paquet, Darcy. "A Flower in Hell (1958)". koreanfilm.org.
Ad blocker interference detected!
Wikia is a free-to-use site that makes money from advertising. We have a modified experience for viewers using ad blockers

Wikia is not accessible if you've made further modifications. Remove the custom ad blocker rule(s) and the page will load as expected.